Na 'Aina Kai is reopening for tours on Wednesday July 22, 2020. 
We will offer one tour each week.  It will be a self-guided, walking tour of the Formal Gardens. Cart tours are not available at this time. As restrictions are lifted we will resume our customary guided tours.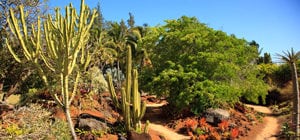 The Formal Gardens will be open for self-guided walks every Wednesday from 9:30 a.m. to noon. 

The Formal Gardens are graced by Shower Tree Park, Ka'ula Lagoon with its plunging waterfall and tropical island, a Japanese teahouse, a Desert Garden, a Palm Garden, and more than 30 bronze sculptures.  We will have volunteers at various locations in the Formal Gardens to answer questions. The cost is $10 per person and children four (4) and under are free.  
Na 'Aina Kai has implemented the following measures:
Space is limited and tours must be booked in advance by calling the Visitor Center at (808) 828-0525.  No walk-ins will be allowed.

All guests over the age of five (5) must wear a face mask.

Guests must practice social distancing, leaving at least six feet between visitors in the Gardens.

Staff will be cleaning high-touch and high-traffic areas including door handles, hand railings, and restrooms with increased frequency.

Guests should wash their hands frequently and thoroughly with soap and water for at least 20 seconds or use hand sanitizer if handwashing is not possible.

Please stay home if you are not feeling well or think you may have been in contact with someone who was ill.